LYNCH STANDARD VALVE PACKAGES
APPLICATIONS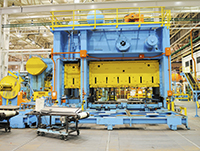 Punch And Forming Presses
- The Lynch Lockout Valve can be used to stop function of the hydraulic press cylinders due to a loss of electrical or hydraulic power to the press.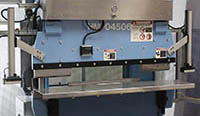 Break Press
- During a loss of power to a break press the Lynch Lockout Valve will prevent unintended movement of the actuator.
LOCKOUT VALVES
Lynch Lockout Valve Packs are pre-engineered ISO modular hydraulic packages that are typically installed in industrial systems. When properly applied, these packages provide reliable circuitry that will prevent any unintended movement of an actuator or motor. This valve will automatically stop motion of the actuator when there is a loss of either electrical or hydraulic power.
FEATURES AND BENEFITS
Industry tested, applications proven.
Ideal for new designs.
A cost effective solution for field retrofits and upgrades.
All models available in imperial and metric.
BLOCK DIAGRAM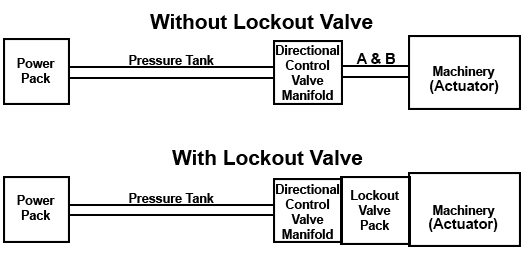 LOCKOUT PART NUMBERS
ISO Interface
Nominal Flow (GPM / LPM)
Part Number
Downloads
D03
15 / 60
VPLMABA_03GT21UAX
STP | PDF
D05
30 / 120
VPLMABA_05TT22UAX
STP | PDF
D05H
30 / 120
VPLMABA_05HT22UAX
STP | PDF
D05HE
30 / 120
VPLMABA_05ET22UAX
STP | PDF
D07
60 / 230
VPLMABA_07GT23UAX
STP | PDF
D08
60 / 230
VPLMABA_08GT23UAX
STP | PDF
D08
120 / 460
VPLMABA_08GT24UAX
STP | PDF
SITE MAP
PRODUCTS
PARTNERS