LYNCH BAR MANIFOLDS & ACCESSORIES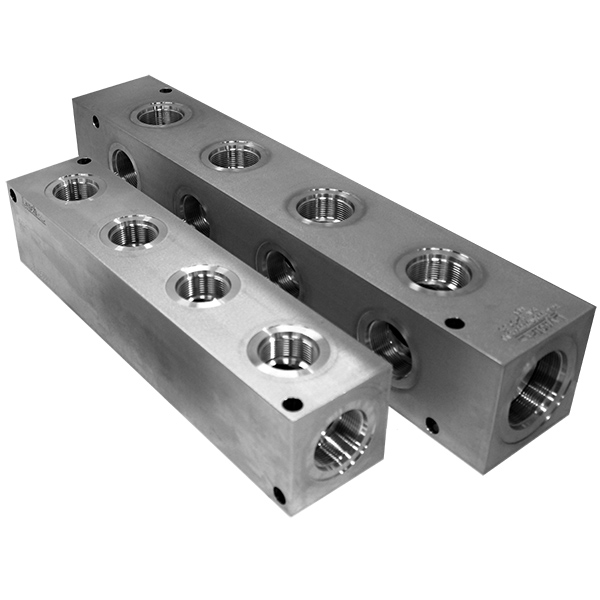 STANDARD SPECIFICATIONS
Standard Materials:
Aluminum-6061T6 and Ductile-654512
Other Material Options:
Mild Steel, Stainless Steel, or Nylon®
Maximum Pressure:
Alu 3,000 PSI, Duc 5,000 PSI
Special Finishes:
Black Oxide, Electroless Nickel Plating, Anodizing
Mounting:
UNC mounting bolt kits are supplied standard
APPLICATIONS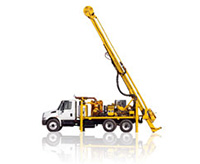 Surface Rig
- Headers are used to neatly connect through ports in a hydraulic system to simplify installation and reduce losses and potential points of leakage.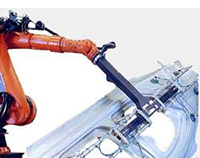 Industrial Applications
- Junctions are used to condense several elbows or tees in one body to keep an installation looking very neat and tidy.
Header & Junction blocks are used to provide distribution or connection points in a fluid power piping system. They only have ports and not valve or pattern machined features. Headers provide a common through port for multiple inlet or outlet ports at each station to be neatly connected together. Junctions offer termination points to join individual lines in order to change direction or combine/split flow with other lines at each station. In both cases they provide support to the piping system. We offer a full range from 1 station to 10 stations and all port orientations.
FEATURES AND BENEFITS
Top & Side mounting is standard.
Internal galleries are equal to or greater than the nominal port connection in order to minimize pressure drops and fluid velocities.
No variation in design layout for each Model regardless of Port Code.
Both Headers & Junctions are offered in odd and even number of stations up to 10.
Headers are offered in 0°, 90° and 180° configurations as standard. Special orders can be placed for the 270° configurations.
Junctions are offered in 90°, 180° and 270° configurations as standard.
Models with smaller ports than shown are available as non-standards.
Optional spacing between ports is available upon request.
Optional port sizes and types such as Metric, BSPP and SAE Flanges Code 61 or 62 are available on request.
Some models of Twin Headers and Junctions are available.
BLOCK DIAGRAM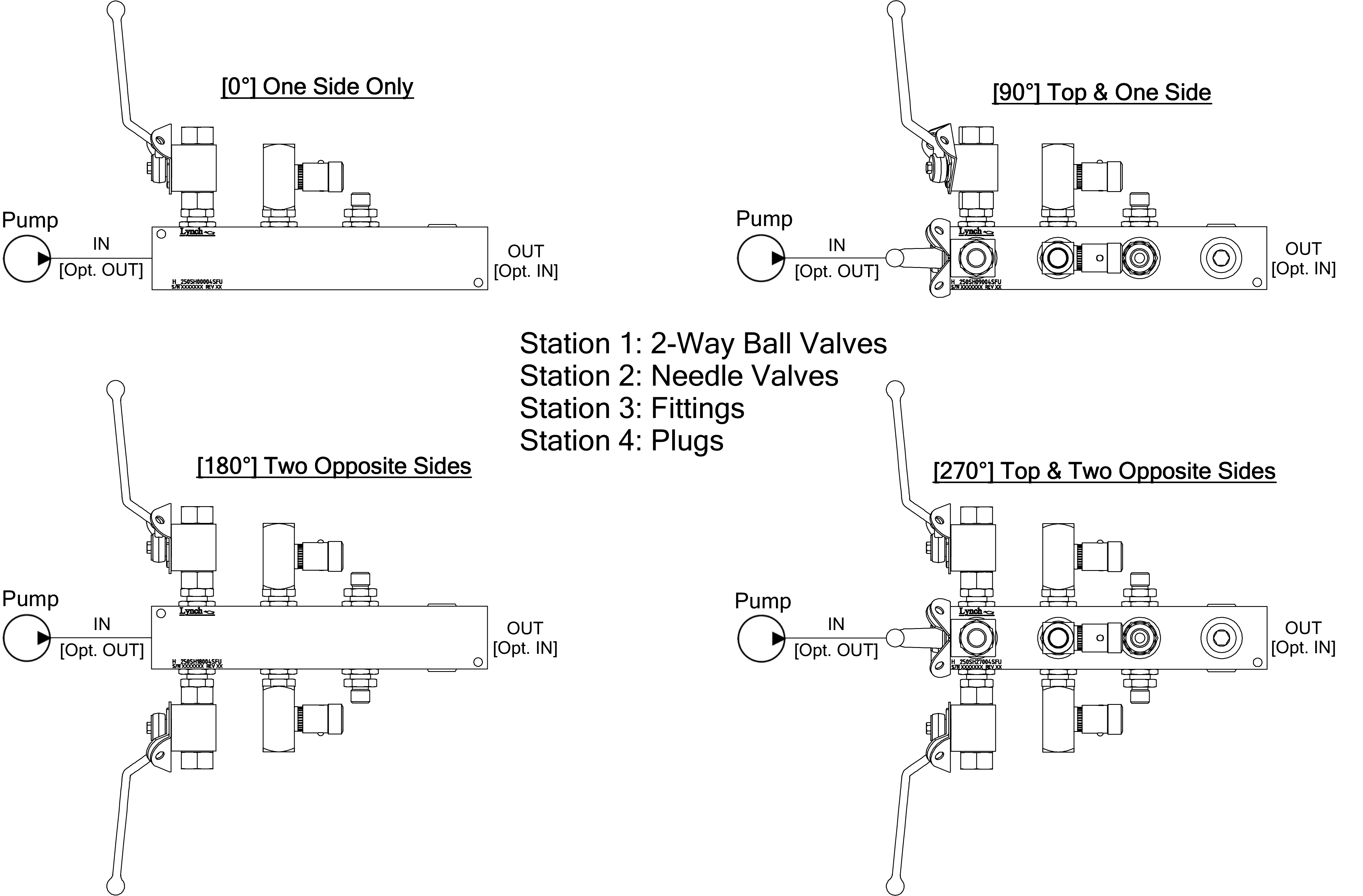 BUILD A HEADER OR JUNCTION
Material Size:
Material Size
End Port Code:
End Port Code
Port Orientation:
Port Orientation
NO. of Stations:
NO. of Stations
Side Port Code:
Side Port Code
SITE MAP
PRODUCTS
PARTNERS