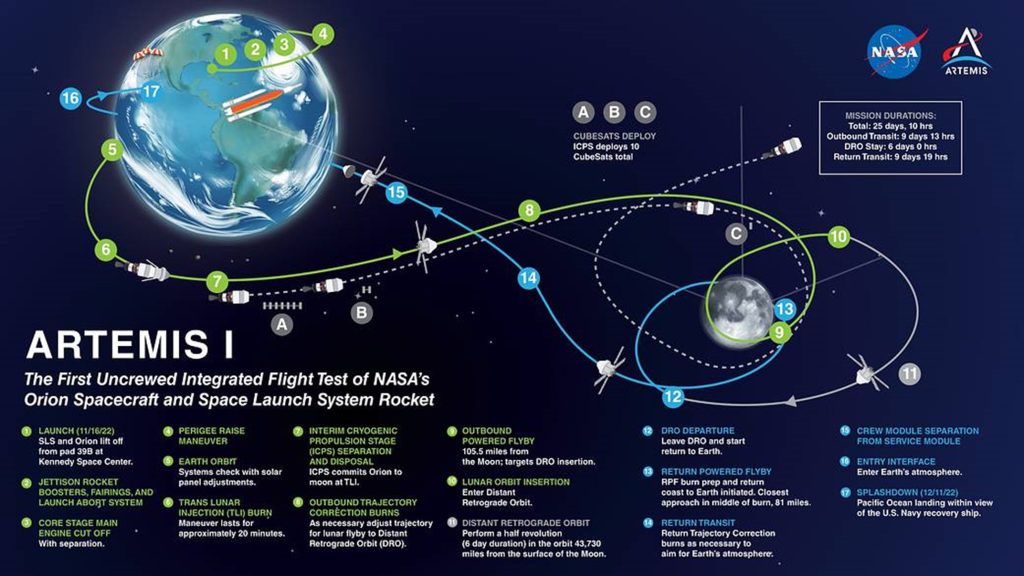 Artemis I was a significant mission for NASA, as it marked their return to lunar exploration after decades of absence. As the first in a series of increasingly complex missions that will enable human exploration of the moon and eventually mars, the main objectives of the Artemis  Program is to test and validate Exploration Ground Systems (EGS), Space Launch System (SLS) and the Orion Capsule System.
The mission is the first integrated flight test of NASA'S deep space exploration system. Artemis I involved the unmanned launch of the Orion spacecraft on the Space Launch System rocket from the Kennedy Space Center on November 16, 2022. After completing one flyby of the Moon on November 21 and a second on November 25, the Orion spacecraft returned to Earth, successfully splashing down safely in the Pacific Ocean on December 11.
After its 1.4-million-mile mission around the moon and back to earth, the capsule was transported from San Diego, California to Kennedy's Multi Payload Processing Facility in Cape Canaveral, Florida, by truck, arriving December 30th, 2022.
With Orion safely back at Kennedy, technicians have begun removing payloads from the capsule, for inspection, analysis and de-servicing operations. (See updates and photos from NASA)
The successful completion of Artemis I paves the way for a series of crewed future missions, including Artemis II, a crewed lunar fly-by that is presently scheduled for 2024.
Did you know that hydraulics not only work in space, but they play an essential role in the operation of space vehicles, their logistics and infrastructure? Properly functioning hydraulics on space vehicles are critical to ensuring missions are safe, efficient, and successful. Lynch is proud of its role in Artemis I and looks forward to NASA's future missions to the moon and beyond!