Lynch Featured in Mississauga Business Times
As written by the Mississauga Business Times – April 2012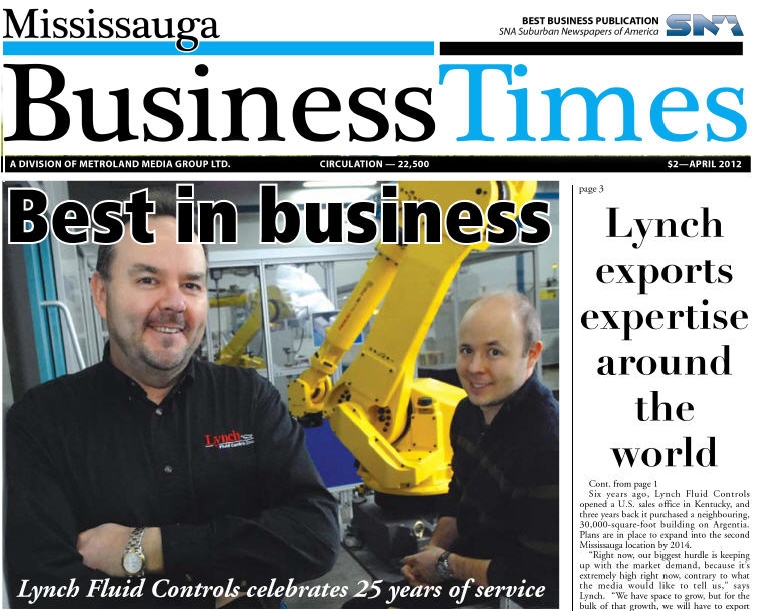 Mississauga's Lynch Fluid Controls Inc. has, for a quarter-century, been a North American leader in the design, manufacture, and distribution of hydraulic motion control manifolds, and integrated hydraulic systems.
From its cutting-edge, 40,000-square-foot facility at 1799 Argentia Rd., Lynch supplies motion control to industries such as: automotive, aerospace, material handling, mining, logging, industrial, mobile equipment, plastics, medical, and even entertainment – from hit productions like Miss Saigon, the Phantom of the Opera, Cirque de Soleil, to movies like Terminator 2 and Universal Studios' productions.
This kaleidoscope of business interests comes to a head in April when Lynch celebrates 25 years serving its growing list of customers.
"We sell into 48 countries, and have a goal of one hundred by 2020," says president and CEO Ernie Lynch.
At present, exports account for approximately 30 per cent of the firm's total sales, and Lynch is eager to up that to 80 percent by 2020.ISO 9001 and AS9100B certified, the Lynch Group of Companies is divided into Lynch Fluid Controls Inc. (manufacturing and distributing for mobile and industrial markets), and Lynch Dynamics Inc. (design and manufacturing for the aerospace and medical industries).
Lynch's exclusive distribution arrangement with the Florida-based Sun Hydraulics – a leading designer and maker of high performance screw-in hydraulic cartridge valves, and manifolds – has been the backbone of its manifold manufacturing division. They've been able to take valve integration to a new level and are now suppliers to many well-recognized fluid power establishments and OEM's.
"We're the master integrator/distributor for Sun Hydraulics Corp," explains Lynch.
"That's a huge help, having that relationship with a publicly traded company on NASDAQ. "We're also a certified manufacturing partner with Sun Hydraulics."
Lynch provides complete and fully functional manifolds ready for the customer's application – both from its standard product line, or customised to specifications.
Lynch's support of the customer includes conceptualization, engineering, component selection, 3D modeling/design, machining, assembly, documentation and validation. They have a marketing department and re-seller location system in-house. Continue reading "Best in Business: Celebrating 25 Years!"